The first issue of volume 55 (summer 2021) is available online today. It will be open access until the end of July.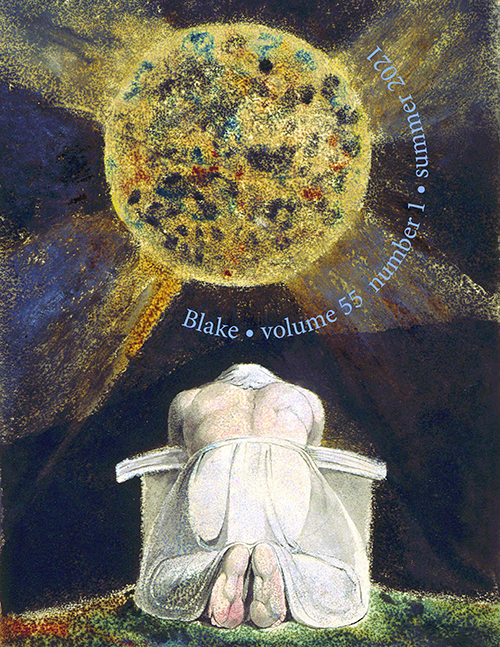 The cover uses the same image (from another copy of The Song of Los) as the catalogue for the Getty Museum exhibition, which was planned for July to October 2020 but postponed. Since summer is our checklist issue for 2020, the cover is a symbol of events that did not take place.
This image is from copy B at the Library of Congress; the Getty's is from copy E at the Huntington. When I started the cover I realized that the globe is not completely centered over the figure, a detail I hadn't noticed until I really had to look at the design.
Some exhibitions did happen before or between lockdowns last year, many articles and books were published, and there were lots of musical releases related to Blake. The issue is surprisingly robust, given the year that was 2020.
The summer 2021 issue contains:
Wayne C. Ripley, "William Blake and His Circle: A Checklist of Scholarship in 2020"
Jason Whittaker, "Blake and Music, 2020"
Luisa Calè, "Blake and Exhibitions, 2020"
Luisa Calè, review of Edina Adam with Julian Brooks, and an essay by Matthew Hargraves, William Blake: Visionary [the catalogue of the Getty Museum exhibition] and Lives of William Blake: Henry Crabb Robinson, John Thomas Smith, Alexander Gilchrist, introduced by Martin Myrone