The British Association for Romantic Studies (BARS) held its biennial conference (Romantic Facts and Fantasies) at the University of Nottingham in late July (@BARS2019). The International Conference on Romanticism (@ICRMCR2019) at the University of Manchester and the North American Society for the Study of Romanticism meeting (@2019Nassr) at the University of Illinois at Chicago followed in quick succession.
We invited some of the Blakeans who attended BARS 2019 to share their experiences. Their reports have been edited very slightly.
Jodie Marley (University of Nottingham)
Although I've just completed the second year of my PhD, the 2019 BARS conference was the first international and Romanticism-focused conference I've attended. Looking over the conference programme beforehand, I was delighted to see four Blake panels. The first panel, at which I also presented my paper, discussed Blake's twentieth-century legacy; the second panel focused wholly on exploring Blake's art and imagery; the third panel, "Blake's Hand," covered everything from letters to marginalia and sketches for The Four Zoas; and the fourth panel bridged the physical and metaphysical, covering form, psychology, and dreamscapes. I enjoyed every single panel and could always find something applicable to my research.
After presenting my paper on the first day, I was approached by Elizabeth Potter, who told me she'd enjoyed my paper and had also quoted Lavater in her own paper—in fact, the very same aphorism (532). I attended Liz's paper on Blake's marginalia two days later. So far, I've been using Blake's marginalia to discuss the influence of Swedenborg and Lavater on Blake's works. However, during Liz's paper, I realised I'd been guilty of exactly what she criticised previous Blake scholars of doing: picking out bits of Blake's marginalia to support my argument without examining the larger context of the marginalia. I have since completely rethought my approach to the marginalia and how I use them. Liz pointed out that the form of the marginalia on the page, as they ran into and interrupted the text, was important for understanding Blake's engagement with the texts, and that the method Blake's notes were inscribed—going over pencilled notes in pen, or otherwise altering them later—demonstrated a self-editing process as he perfected his thoughts on the works that influenced him.
Another interesting discussion I had was with Sharon Choe. I attended her day two paper on The Book of Urizen, darkness, and creation, and we realised that independently of each other and with completely different research foci we'd come to similar conclusions regarding how Blake works with the theme of darkness. She'd never read Jacob Boehme and was unfamiliar with his principles, which I'd discussed. Similarly, I am completely unfamiliar with Norse mythology outside of Marvel movies. We also both used the same plate from Urizen in our papers, though her discussion of it linked to a series of slides breaking down the visual symbolism of darkness in several of the Urizen plates.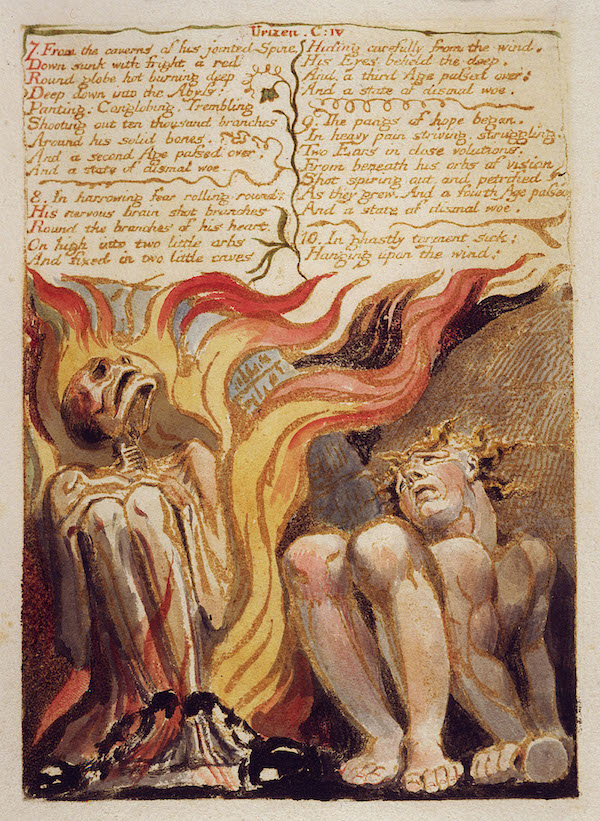 The highlight of the conference for me was being with other Blake scholars for four days in a row, with no other objective but to learn from each other and engage in fascinating conversations. As the only Blake PhD student in my department, I am often starved for the company of fellow students and researchers who "get" Blake. I still miss the deep discussions we had about Blake daily, and I know I won't experience them again for a while now, but I excitedly look forward to our paths crossing again.
Liz Potter (University of York)
Held at the beautiful University of Nottingham, BARS 2019 was a rewarding and encouraging experience. The theme immediately caught my interest: Fact and Fantasy. The artists, authors, and luminaries deemed the Romantics are remembered through collected stories and assumptions. Duncan Wu's 2015 book Thirty Great Myths about the Romantics features amusing chapter titles like "Myth 30: The Romantics Were the Rock Stars of Their Day," illuminating the complexities of these generally accepted notions and personalities.
The cultural reception of Blake as a starving and mad artist-poet persists, despite the materials and evidence we have to the contrary. This complicating evidence was the focus of the panel I was fortunate to be involved in alongside Mark Crosby and Josephine McQuail. Our panel, "Blake's Hand," focused on the manuscript materials in an effort to provide nuance to the fantastical and factual Blake.
On a personal level, I was immensely grateful to see so many women from diverse backgrounds studying Blake. Across languages, races, ages, nationalities, LGBTQ+, and religious beliefs—we are all deeply invested in Blake scholarship. Our unique life experiences inform our relationship to Blake, impacting our output. We swiftly gravitated to each other and have built fast professional relationships and friendships. Several of us intend to collaborate and will provide information soon on our upcoming ventures. Overall, BARS 2019 was a reenergizing experience for me as an academic and a Blake scholar. The broader community gathered at BARS 2019 was engaged and curious. In particular, the circle of Blake scholars was deeply refreshing. The creative experimentality, combined with the thoroughly researched esoteric sources, was invigorating. The high-quality work displayed helped me to include viewpoints and sources I never knew or considered previously.
Sharon Choe (University of York)
Last time, BARS was at York and I was helping out as a master's student. It was surreal for me to be on the other side this year and be one of the "adults" presenting their research. I have just completed the first year of my PhD, and as this was my very first conference as a PhD student (and, incidentally, my first ever paper on Blake), I was initially intimidated and nervous about giving a paper. I had no idea what to expect and I did not know whether people who would come and listen would find merit in my work, but all that disappeared when I went to the first Blake panel of the conference.
It was astonishing to see just how many graduate students were working on Blake, and it was encouraging to watch as everyone supported each other with thoughtful questions. Amongst the graduate students, we were a good mix of those who worked solely on Blake, and those who worked on Blake alongside others. It was also great to see that the majority of the graduate students working on Blake were women. Someone even pointed out during my panel that it was the first all-female panel on Blake he had ever attended. We formed our own little network as we began to recognise each other from the other Blake panels, and have already talked about future collaborative projects. It was inspiring to see how everyone interacted and discussed their research in a thoughtful and respectful manner. Each panel was completely different, which I enjoyed immensely. It was refreshing to see a variety of paper topics, as it reminded me of just how diverse Blake scholarship can be: there were papers ranging from Blake's own textual practice to the reception of his work in the twentieth century. In my initial introduction to Blake at conferences, I learnt so much by just being around everyone and soaking up their research!
Elli Karampela (University of Sheffield)
William Blake has often been perceived to have "the Voice of one crying in the Wilderness" (All Religions are One, pl. 1), and critics now and then have had a hard time comprehending the multilayered valences of his writings, let alone placing him alongside the rest of the Romantic poetry tradition. For me, Blake has always been all about celebrating energy, movement, difference, and inspiration, and I was delighted to find out that so many other scholars at the BARS conference (2019) shared the same passion.
The BARS conference was not my first one, but it certainly was the first ever international conference I had attended dedicated solely to a broad spectrum of Romantic studies, so I was really nervous about my presentation and the whole experience. I happily discovered that the community was extremely friendly and inviting, and I met wonderful and resilient people who worked on various aspects of Romantic writings. Among them were my fellow Blake panellists Sharon Choe and Clémence Ardin, as well as Blake scholars from other panels, like Elizabeth Potter and Jodie Marley. It was inspiring to discuss with them what I have been working on in the first chapter of my PhD thesis, of which my paper on Blake was an uncertain offspring, and to learn more about the different aspects of Blake scholarship they have been working on.
For example, I was really struck by the way all three papers on my panel shared a pronounced emphasis on the physical aspect of Blake's poetry, like The First Book of Urizen and his illustrations of the book of Enoch. My own paper focused on The Ghost of a Flea and the sociopolitical vampirism of the flea's Gothic body, and it was thought-provoking to hear and discuss how the amazing papers from my fellow panellists tackled representations of the fallen body in Blake's work. The questions and Blake talk after the presentation of our papers provided a lot of food for thought on the meaning of the body for Blake and its place in Blake's vision. This was my first Blake presentation, and I will always treasure it because I got to learn so much more about Blake and engage in fruitful discussions with fellow scholars. I dedicate only one chapter of my PhD thesis to Blake, but I would really like to work on his writings more extensively, and even though I could attend the BARS conference for only a day, I got the motivation to pursue Blake scholarship even more, not only because his work is original and outstanding, but also because it has so much to offer in present-day art and studies. During our talks, my fellow Blake scholars and I even talked about the possibility of a Blake conference in the future, and I really hope we are able to organise it. Thank you BARS 2019 for a unique experience!
Annise Rogers (University of Lincoln)
BARS 2019, held at the University of Nottingham, was not only the first international conference I have attended, it was also the first that was based within the area of my research. Having just finished the first year of my PhD studying William Blake, I was delighted to attend the conference, not as a speaker, but simply as a listener, and as such my experience was decidedly one sided. Having not attended an event of this magnitude before, I was thrilled to learn that there would be a Blake panel every day (I was told that this was not always the case). Over the four days I went to all these panels and was fascinated by the breadth of what was being presented; from the early poems and the sketches and art to the marginalia and letters, there was truly something for every type of scholar. I was especially excited to see not just one but two panels that were focusing on Vala, or The Four Zoas, because it is the centre of my research.
The inclusion and interaction of the speakers and their audiences were perhaps the most fantastic aspects of the experience. There was never a moment when something derogatory was said, and the questions asked developed an argument or challenged the speaker in an intellectual and respectful manner. The equality that existed between the junior and the more senior researchers was that of people who are genuinely enthusiastic about their subject of study, and thus the respect was palpable. The diverse nature of Blake studies meant that everybody there was (to me at least) speaking about something that was fresh and innovative, and this really illustrated why Blake is still so relevant today. On a more personal level, this conference allowed me to interact with researchers at all levels of academia, to whom Blake is as interesting as he is to me. The discussions between and after panels meant that I was able to experience in-depth debates about Blake and his works, outside of my fantastic supervisory team, for the first time. I met some brilliant scholars who challenged how I view my own research, and whom I hope I will meet again, because if these four days of Blake discussion have taught me anything, it was that this is where I want my future to lie.
You can see other conference reports on the BARS Blog, including one by Jodie, who deserves a prize for producing different reports for two blogs! Many thanks to Annise, Elli, Sharon, Liz, and Jodie for taking the time to provide us with their insights.