Exciting news: the William Blake Archive now has an Instagram. This additional platform will enable Blake's materials to reach new audiences through a primarily visual application, bringing decades of digital archival work into the pocket-sized cellular devices of over one billion active monthly users worldwide. Both known for ease of access and for interweaving the visual with the textual, Instagram and the William Blake Archive are a natural fit for one another.
The About the Archive page states: "A free site on the World Wide Web since 1996, the Blake Archive was conceived as an international public resource that would provide unified access to major works of visual and literary art that are highly disparate, widely dispersed, and more and more often severely restricted as a result of their value, rarity, and extreme fragility." Though owned by Facebook, Instagram is largely international, public, open, unified, and visual; art critics and journalists ranging from radical to traditional acknowledge that Instagram is instrumental to contemporary users' interactions with art. Instagram is "shaping the art world," "democratizing the art world," and "changing the way we experience art." It is "the art world's obsession … an indispensable, all-purpose tool for everything art related," and "the new mode of art consumption." The Blake Archive and Instagram suit one another, and sharing the former's materials on the latter application is another means for achieving the project's stated ends: "an extension of ongoing archival, cataloguing, and editorial enterprises into a new medium in order to exploit its radical advantage."
* * * * *
When I joined the University of Rochester branch of the William Blake Archive (the Blake Archive Northern Division, or BAND), I learned the team encourages individuals to use their unique backgrounds and experiences to inform their projects and contributions. The team urges its members to tap into whatever projects suit their specific skills, previous training, natural inclinations, and areas of curiosity. One member told me: "If you feel like redecorating the office, hey, go ahead and do it! That can be your project." I also heard, "The Archive is what you make of it."
My scholarly background includes undergraduate degrees in English, French, and art history, so I'm happy to work with literary-textual and artistic-visual objects alike. Plus, the multidisciplinary aspect of University of Rochester's Visual and Cultural Studies PhD program foregrounds nontraditional approaches to visual materials. I've worked at the Museum of Fine Arts Houston, the Contemporary Austin, the Harry Ransom Center, and the Blanton Museum of Art, so I have a particular interest in curation, display, and mediation of art and manuscripts. How could I use my curatorial and museum education background to add something new to the Blake Archive? Inspiration struck. I could develop the William Blake Archive Instagram.
As I suggested the idea, some understandable concerns arose. I sensed some reluctance and hesitancy. Yet, the Blake Archive itself pioneered educational uses of digital technology, much like the innovative and inventive William Blake's deviance from traditional conventions. As a platform for contemporary makers and creators, Instagram lends itself well to educational endeavors and sharing of scholarly resources.
Most prominent museums, archives, and libraries have official Instagrams with large followings. These institutions share visual and literary content with wide audiences through the application. In my time at the Harry Ransom Center and at the Museum of Fine Arts Houston, I generated materials they shared through their social media accounts, including their Instagrams. More recently, during my stint at the University of Rochester Humanities Center, I launched their Instagram and cultivated its audience over a few weeks. In each of these institutions, Instagram plays a key role in reaching new demographics who might not use more conventional web browsers as often—and for all its merits, functions, and ease of access, I would be willing to bet most people do not interface with the Blake Archive website via their smartphones.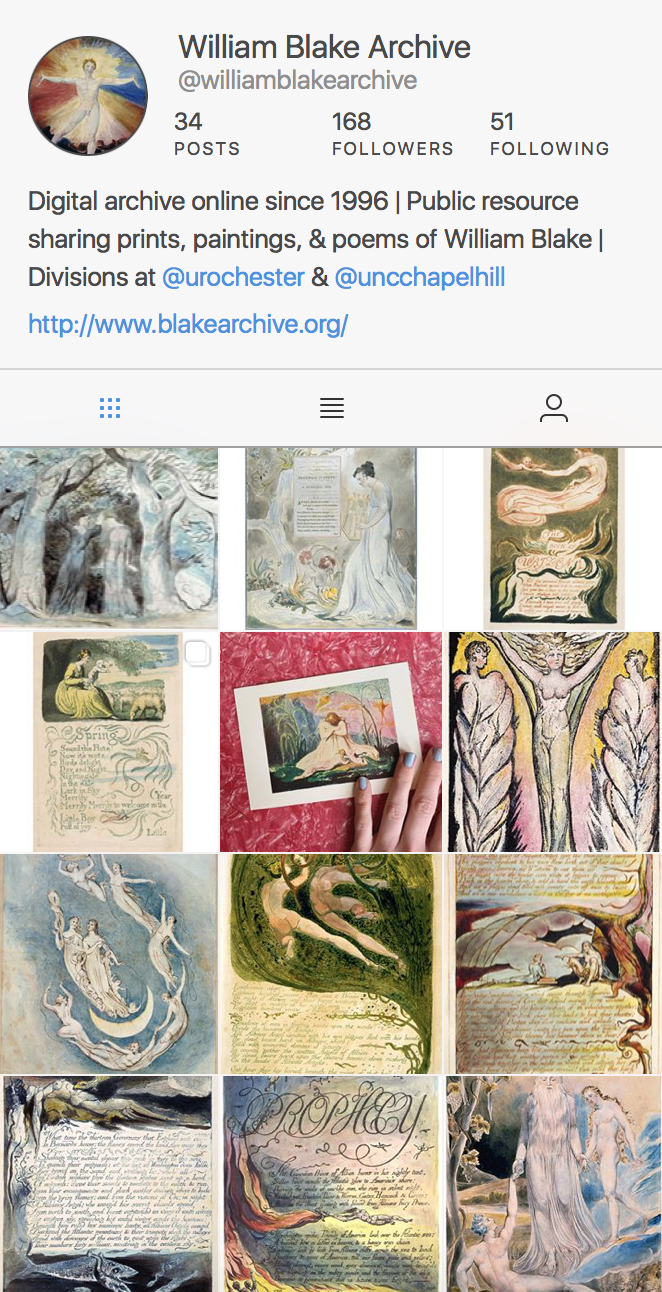 Without further delay, I introduce the William Blake Archive Instagram: @williamblakearchive. The site is in its fledgling stages. For now, I've populated the page with some compelling, aesthetically interesting images and their basic tombstone information. My vision, going forward, is to devote time to create narratives around the content shared. I want to share how Blake's work connects to moments in history and to contemporary events. I want to craft thematic posts based on holidays or relevant cultural content. I want to share information about Blake's biography, his artistic practice, and his continued influence and resonance. Given Instagram's highly visual form and its capacity for lengthy textual captions, and given its massive, global presence, this application is the perfect opportunity to spread, share, and engage, and thereby further the aims of the Blake Archive.