No, we're not giving away the Blake Quarterly (though sometimes we would like to). I previously promised a couple of giveaways to celebrate the fiftieth volume of the journal. The first is something that I would very much like, and I hope it will be equally appealing to others who are interested in Blake.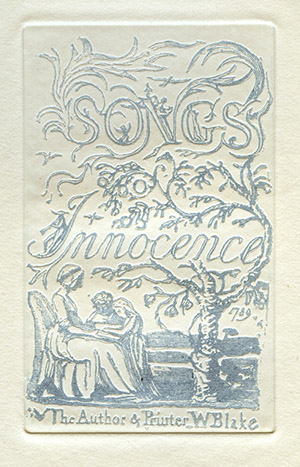 I'm not in a position to be offering an original Blake, but I am excited to have a print made by Michael Phillips from his re-creations of Blake's relief-etched copperplates, printed by hand on handmade English off-white wove paper of c. 1927. The winner can choose one of the prints from the Songs that are listed as available on his site. The site also contains information about how the plates and prints are made. I'm grateful for Michael for working with me to make this giveaway possible.
Before I give the entry information I need to draw your attention to the terms and conditions. The prize includes one unframed print plus shipping to the winner's address. To enter you do not need to provide anything other than your name and an e-mail address, which will be used only in the case that you are the winner.
Please submit just one entry per person. To help us keep the appearance of propriety, please refrain from entering if you are on the staff or editorial board of the journal (contributors may certainly enter) or if you work for the Blake Archive.
Most importantly, if you are the winner and a US taxpayer you must agree to provide the University of Rochester (where the Blake Quarterly resides) with a W9 form. It is your responsibility to pay income tax on the value of the print (US $66.00).
If you are the winner and not a US taxpayer it is your responsibility to determine any tax obligation in your country. You are also responsible for any VAT or duty that may be charged on the shipment.
If you reside in Canada, you must answer a skill question before the prize can be awarded.
You can e-mail me (sarah.jones@rochester.edu) with any questions about the giveaway.
Finally, if you've made it this far, here's the link to enter. The winner will be drawn on 12 October. Good luck!
Update: Congratulations to our winner, Alexander Regier, and thanks to all who entered!