The William Blake Archive is pleased to announce a new wing of the Archive, which contains searchable HTML and PDF editions of thirty-nine past issues of Blake/An Illustrated Quarterly published from 2000 through 2009. These issues are accessible via the second entry on the home page, just below "Works in the Archive." The PDF versions present the journal as originally published, but the HTML versions are re-implemented with many full-color images from the Blake Archive, making it possible for users to link directly to the Archive for those works that have been published in the Archive.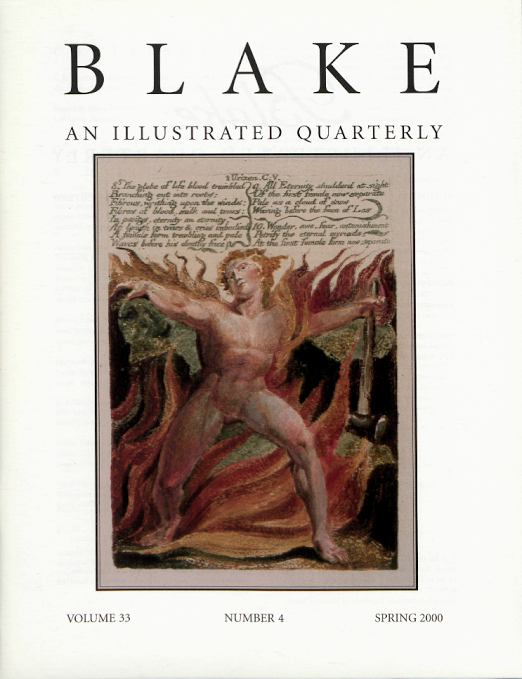 This publication is the first installment of the Archive's ongoing project of making freely available and fully searchable over four decades of past issues of Blake/An Illustrated Quarterly, thus making public some of the most important scholarly work done in Blake studies over the past half-century. Issues published within five years of the current issue will remain available only to those who subscribe to the journal.
As always, the William Blake Archive is a free site, imposing no access restrictions and charging no subscription fees. The site is made possible by the University of North Carolina at Chapel Hill with the University of Rochester, the continuing support of the Library of Congress, and the cooperation of the international array of libraries and museums that have generously given us permission to reproduce works from their collections in the Archive.
Morris Eaves, Robert N. Essick, and Joseph Viscomi, editors
Joseph Fletcher, project manager, Michael Fox, technical editor
The William Blake Archive