if:book just published the long-anticipated Songs of Imagination and Digitisation, "an illuminated book for the digital age." On the surface, this digital illuminated book looks (and functions) much like a book: it has covers, a (hyperlinked) table of contents, and turning pages.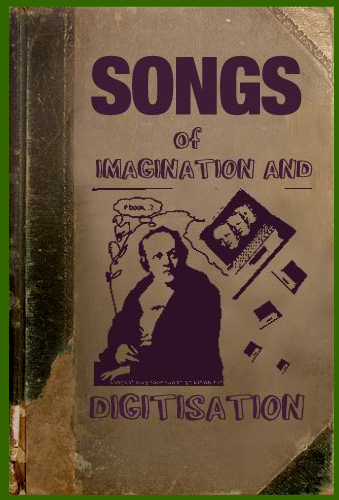 This book, however, is also not a book. It does contain text (some of Blake's short pieces, personal responses to Blake's work, and  new poems and prose by modern writers), but it also uses the book page to frame moving images. Video clips include readings of Blake by Toby Jones and interviews with Chris Meade (the director of if:book), Tim Heath (Chair of the Blake Society), writer Lisa Gee, new media writer Tim Wright, Emma Crewe (director of Child Hope), Sasha Hoare (film maker), and various members of the public. Pages of this digital illuminated book are also linked to other projects and videos — like Lisa Gee's biography of Blake's patron, William Hayley; Blake Walks; Blake's Netbook; and Save the Tyger.
Several commentators mention Blake's relationship to the new media of his day, and imagine his role within the context of digital media and the internet. Blake's interest in new forms of media, and new forms of books, make him a perfect figure for this sort of thought-game. Pushing the page to include animated text and moving images naturally extends Blake's experiments with text and image. The idea of expanding (exploding?) the  book to include multimedia elements also reminds me of Zak Nelson's design for a "new kind of book" (via Web Ink Now).
Nelson's layout is in response to "a new kind of literacy," that is, a digital literacy informed by reading websites:
…people are becoming more literate in reading websites, and that neural reconfiguration may well be affecting how traditional books are read and sold (or, unsold as the case may be).
While it's easy to imagine future books as digital extensions of the codex form, our new digital literacy might in fact more closely resemble ancient practices: reading scrolls. As Lev Manovich observes in The Language of New Media, "scrolling through the contents of a computer window or a World Wide Webpage has more in common with unrolling than it does with turning the pages of a modern book" (75). To me, one of the significant differences between the scrolling of online sources and the turning pages of the book form has to do with our relationship to information, how it is framed and how we can navigate it–whether we access frames of information sequentially, or whether we can scroll hastily to the end for a visual experience with information that is more "all at once." While obviously bookish, Songs of Imagination and Digitisation does contain a scrolling page; readers' comments answering the question "Where do you think Blake lives now?"
As a digital illuminated book, Songs of Imagination and Digitisation is an interesting hybrid of book and non-book. It holds on to the borders and sequential linearity of the book–each page contains a single object (either video clip or page of text), and you can only see one page (or set of facing pages) at a time. But it also spreads out into other sites, Blakean projects, and videos. It is is both familiar and strange, and I can't wait to see what it does next.