January 17, 2009
Via {feuilleton}: Google has teamed with the Prado Museum in Madrid, Spain, to bring ultra high resolution photographs of some of the most famous works held by the museum to users of Google Earth. Users will be able to examine the works up close and personal, and at a degree that wouldn't even have been available to the artist. A press release from the Prado notes that
The Prado Museum has become the first art gallery in the world to provide access to and navigation of its collection in Google Earth.  Using the advanced features of Google Earth art historians, students and tourists everywhere can zoom in on and explore the finer details of the artist's brushwork that can be easily missed at first glance. The paintings have been photographed and contain as many as 14,000 million pixels (14 gigapixels).
So far, only 14 works have been added to Google Earth, but more are on the way. Among them are some of the most famous and ground-breaking works of art of all time, such as Velasquez's Las Meninas, Goya's The Third of May, and Bosch's hallucinatory Garden of Earthly Delights.
To view the works, download Google Earth, "Fly to" the Museo del Prado, and click on the museum. The paintings will pop up. Selecting one and viewing it in ultra high resolution allows you to zoom in to your heart's content. This becomes an endless source of entertainment with a painting like Bosch's, which is so full of detail that some things are easy to miss.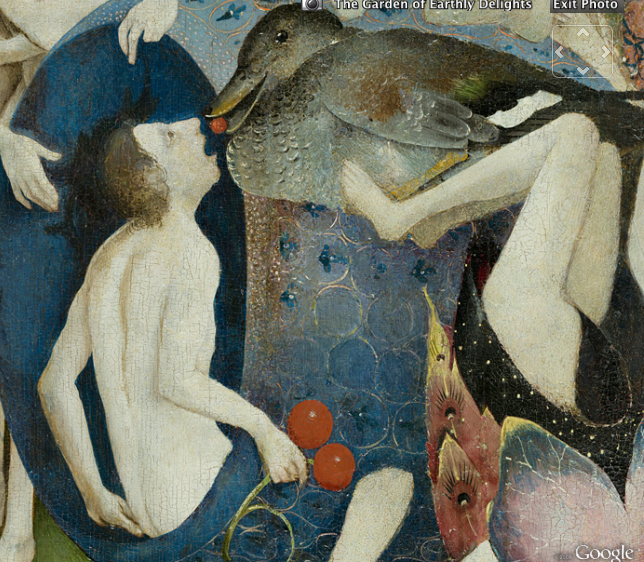 I never noticed, for example, that this bird was watching me so intently: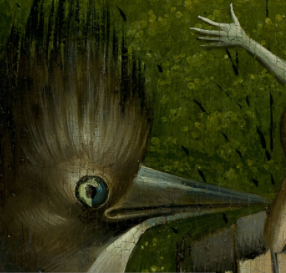 This is an amazing resource. Maybe one day we'll do something similar with Blake's art.
Continue reading